The coronavirus (COVID-19) hit our country a few weeks ago and like most of you, I have been watching our world change right before our eyes.
Being immunocompromised myself (I have asthma) and having several family members who are also affected in multiple ways by this pandemic which has taken over the entire globe, I've been keenly watching the updates on social media. While scrolling through my feeds, I've come across a few concerning things that I'd like to share my thoughts on.
1. Frontline staff need our support
The Coronavirus has spread astronomically fast across international borders and parishes putting a strain on our healthcare sector.The nurses, doctors, first responders, utility company employees and government officials who are going to work every day to take care of the infected and make the difficult decisions that keep us safe need all our gratitude and support.
They are working in difficult conditions and risking their lives so that we can all be comfortable and protected. So if you don't want to stay home and practice social distancing for yourself, you need to do it for them, so this can end as quickly as possible and they can get home to their families, just as you are home with yours.
2. Now is not the time to be barbaric.
Being a carrier of the coronavirus is not a death sentence. And yet we see an increase in discrimination. Threatening people who have been diagnosed with the virus. Attacking someone for coughing or sneezing in public. Denying transportation and service to healthcare workers. Ignoring recommendations and advisories from the government because of party politics. This is unacceptable. These actions help no one, in fact they do more harm than good!
If you find out someone is sick, simply take the necessary precautions to protect yourself from contracting the virus, and help them get in touch with the COVID-19 hotline so they can get the assistance they need. Now is the time to step up and help others, because only by working together and supporting each other will we survive this experience.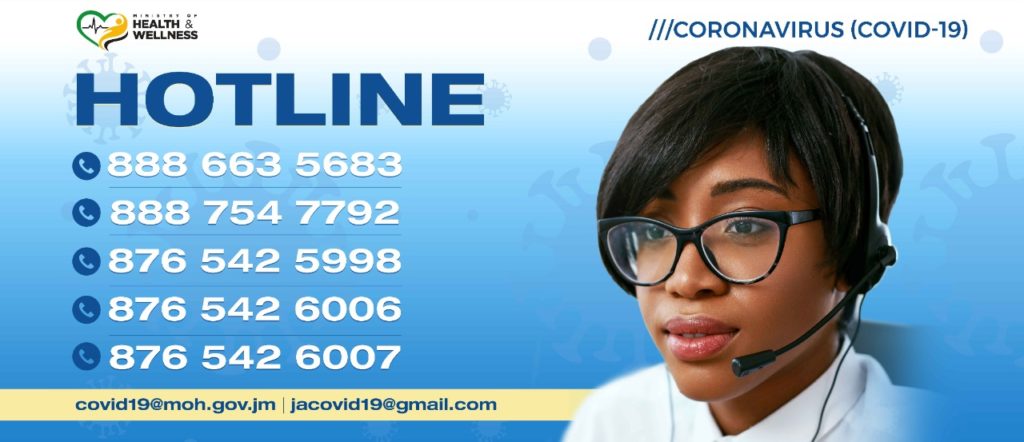 3. Spreading misinformation helps no-one
Spreading misinformation about the coronavirus (covid-19) is fear mongering. Disseminating information one thinks is true is one thing, but going out of one's way to deliberately make up "facts" and even creating graphics using the logos of official sources to spread misinformation – that is unforgivable.
Before you jump to retweet or share a post about the virus, check the source. Ensure that is is coming from one of the international bodies, official government entities or reliable news outlets before spreading it. If you see someone sharing false information, suggest they take it down, or report the post if it is particularly malicious.
4. Stop hoarding toilet paper!
Soap, hand sanitizer, wipes, Lysol, toilet paper! As soon as news of the coronavirus (covid-19) hit, people went out and bought them all up by the dozens. When they do that, it leaves little to nothing for others who actually need it, and if you're hoarding supplies while others have none, it actually hurts you in the long run.
If you happen to have excess supplies on hand right now that are in short supply, do your part by donating it to children's home or charities that distribute to those in need. Trust me, no one is going to benefit from the cases of toilet paper sitting in your bathroom cupboard, not even you.
5. School may be cancelled, but learning isn't
Kids staying home from school doesn't mean they must stop learning! Many teachers are going above and beyond by filming lessons for their students and sending them to parents via email or WhatsApp groups, along with practice material and homework.
Even if your child's school isn't doing that, you still have an opportunity to keep kids learning over the isolation period. TVJ is now airing lessons daily in the mornings, while small educational companies like EduFocal are giving away free access to their online resources and PEP practice material for kids in Grades 4-6.
Don't forget, learning isn't just about Math and English, so feel free to divert from the standard school curriculum and allow your kids to explore other things they may be interested in. You'd be surprised just how much they learn from doing mini-experiments and projects that don't involve books.
6. What do we tell the kids?
Explaining the coronavirus to your kids isn't an easy job, especially if you're concerned about the impact it will have on your family. But just remember, if you're panicking, your kids will panic, so try to keep as calm as possible while having the conversation with your child.
UNICEF recently invited me, Marlon "Musique" Campbell, and Emprezz Golding to do a PSA to help you communicate about the virus with your kids and let them know what they should be doing to prevent getting it. Here's the full video.
7. Is this the remote work revolution?
Many employers, especially those in Jamaica, have been reluctant to explore the possibilities of having employees work from home. The coronavirus has forced their hands. While it may be a scramble at first to find the right tools to support remote working staff, eventually we will get the hang of things.
Besides, no one knows exactly how long this social distancing/self-isolation period will last, so working from home could go on for a long time. And once the pandemic has passed, remote work might not be so scary for employers to implement. In fact, it might become the new normal.
8. People are being affected way beyond being sick
COVID-19 is having a massive economic impact, that will be affecting us for years to come. Stock markets are tanking. Hotels and restaurants are closing and laying off workers. Events have all been cancelled or postponed. And small businesses in creative industries will be hit especially hard when their customers have less flexible income to spend.
Even if you believe that the virus is not impacting you now, as our employers' revenues decrease, our favourite businesses close down and our friends and families lose their jobs, it will eventually affect us all.
9. The patriots have stepped up
Despite the losses that most businesses will suffer during this time due to the coronavirus (covid-19), there are still a few out there who are doing their part to help our country through the pandemic.
Toyota Jamaica (one of my favs) has donated two buses to the Ministry of Health to help transport hospital staff who are being denied public transportation. J. Wray and Nephew donated 100,000 litres of pure alcohol to hospitals for sanitization. NCB Jamaica has offered fee waivers and loans to both individuals and business customers who need support during this time. Other small companies are doing what they can to make sure they don't have to lay off staff.
There are more, I'm sure, and I want to thank each of them for doing their part to give back to the community that supports them.
10. People weren't washing their hands before?
Personal hygiene may be…personal, but there are some things that are universal, and I really thought washing your hands after using the restroom was one of them. Imagine my surprise when I see people coming out of the woodwork saying they don't. They go around and touch the items in their household that their kids touch, they cook, they invite guests over, they go out and shake hands. ? I hope that, if nothing else, this experience shows just how important hand washing is and that they make a lifelong practice of it.
We're stronger together
The ripple effect of this virus will be felt far and wide globally for a long time, and it will never end unless we ALL do our part to stop it from spreading. Right now, we need to look beyond ourselves and our own desires and support each other, because that is the only way for us to move forward.
If you believe you may have contracted the virus, the Ministry of Health is urging you to stay at home (do not go to the hospital) and call the COVID-19 Hotline at 888-ONE-LOVE (663-8653).
To keep updated on the latest information and updates on COVID-19, I recommend these resources:
Offline, you can watch and/or listen to the news from TVJ, CVM, RJR, Nationwide and other reputable news sources.