Most Influential People of African Descent, a leading entity in support of the United Nations International Decade for People of African Descent recently proudly recognized Dr. Terri-Karelle Reid as one of the Most Influential People of African Descent (MIPAD) Class of 2023 Global Top 100 in support of the United Nation's International Decade for People of African Descent and in celebration of the 75th anniversary of WHO.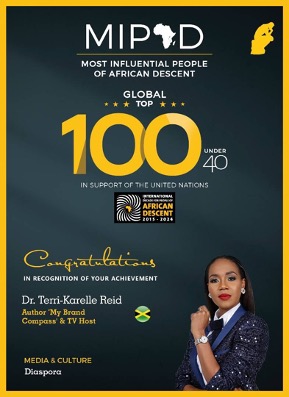 This distinguished honour acknowledges Terri-Karelle's exceptional achievements, inspiring leadership, and significant contributions to society in the field of media and communications.
MIPAD, as an organization is committed to promoting diversity and celebrating individuals of African descent globally and throughout the years have highlighted outstanding figures who have made a significant impact in their respective fields. With her remarkable accomplishments, unwavering determination, impeccable work ethic, and dedication to her community it come as no surprise that Terri-Karelle has landed this prestigious recognition.
Born with an innate passion for "connecting the dots," Terri-Karelle has revolutionized the Media and Communications landscape through her visionary approach and innovative thinking. Her exceptional communications skills, coupled with her relentless pursuit of excellence, has propelled her to the forefront of audiences around the globe including global leaders and industry professionals. However, according to her, "media wasn't written in the stars" for her when she thought about a career.
"All my life I wanted to be a veterinarian. However, after studying in Cuba for on a government scholarship for 7 years and then being told that I wasn't accredited to practice in Jamaica, it was a huge rejection for me. However, I took that rejection and redirected my life on a route that many persons often encouraged me to take…in media," she shared.
Terri-Karelle's influential presence extends beyond her professional achievements. She has consistently used her platform to amplify marginalized voices, raise awareness on critical issues, and effect positive change in society, especially when it comes to issues about women, girls and persons living with disabilities. Her philanthropic efforts and community engagement initiatives have made a tangible difference, uplifting communities and empowering individuals.
To learn more about Terri-Karelle's remarkable journey and her ongoing contributions, please visit www.terrikarelle.com.