After a brief hiatus due to the COVID-19 pandemic, the JMMB Group's highly anticipated Elevate Financial Wellness Summit returned to the marketplace under the theme 'Living Your Best Life'. With patrons joining virtually and face-to-face at the AC hotel in Kingston, the financial institution pulled out all the stops to ensure a successful comeback event. One special element was dubbed the "full circle evolution" of Dr. Terri-Karelle Reid who headlined the marquee event alongside her mentor Paul C. Brunson.
Terri-Karelle first attended the debut staging of Elevate back in 2019 and subsequently hosted, moderated and participated in panel discussions and fireside chats over the years in her capacity as a media personality/entrepreneur. However, five years after her debut, Reid returned to the main stage delivering a powerful message around "Creating your Best Life." In her brief welcome introduction of Dr. Terri-Karelle Reid, Kerry-Ann Stimpson, Chief Marketing officer at the JMMB Group stated, "this speaker is special to us not only because we get to work with her all the time at JMMB, but she was with us at elevate 5 years ago not as a speaker, a host, or as a panelist. She was there because it's something she wanted to be a part of. She sacrificed her whole weekend for Elevate that year." She continued, "After the event she posted a 30-minute video clip about what the elevate platform had done for her and that was something that brought tears to my eyes. And now this year, she has returned as one of our anchor speakers for our Elevate 5.0 event," she ended. As Stimpson ushered herself off the stage to welcome Reid, the audience erupted in fanfare.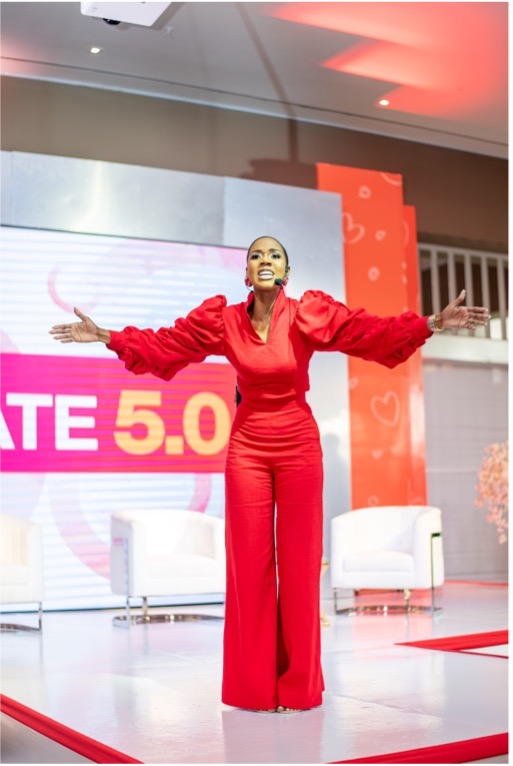 With her usual elegance and undeniable energy, the 40-year-old entrepreneur and public speaker entered the stage to Jermaine Edwards' hit "Beautiful Day" after which she cautiously reminded everyone that she wasn't an authority figure who could dictate how to live one's best life but instead referring to the topic as 'subjective' and one that she was ready and willing to speak on and share the principles that she has employed that has led her to continuously live her best life.
The former Veterinary doctor outlined 7 key steps that individuals can undertake to put them on a better path to living their best life. The included:
Defining your best life (what living your best life looks like and feels like)
Understanding that your breakthrough is usually on the other side of your habits
Outwork your self-doubt
Ask for help and learn to self-advocate
Define and establish your character
Don't compete or compare
Pay it forward
As the presentation continued, Reid drew on her personal life experiences to further cement a few of her points to the audience and drive home the overarching message of getting attendees to practice better steps in defining their best life. However, based on the feedback from the audience and the many social media posts that littered the social space, "outwork your self-doubt' was the biggest take away for the many in attendance. According to Reid, "We have to outwork your self-doubt. What I'm asking of you all today is that you look at execution over inspiration, execution over motivation, action over absorption and assimilation." She continued, "we absorb every day, we assimilate every day, but we do not take action. The day you take that first step and you start to outwork your self-doubt, everything becomes easier but that takes time," she declared.
To end her hour-long presentation, Reid recapped the 7 principles that can be used for persons to build their best life and reminded persons, through her usually nurturing nature, of the importance of storytelling and how that can aid in connecting people and experiences. Shortly after, she dove head-first into the question-and-answer segment from attendees both in person and online.
Subsequent to Reid's presentation, Paul C. Brunson in his address referenced Reid on several occasions as one of the best storytellers in the space and someone who assimilates well and then executes as he unpacked nuggets of information around personal brand building techniques also using real life experiences from his journey during his hour and a half presentation.
JMMB Elevate is the financial company's annual financial empowerment summit geared towards empowering more Jamaicans to rethink money and wealth creation.